Devon VanHoffen Class of 2012
After a transforming experience on a school mission trip to South Africa in March of 2012, Devon graduated from Smithville Christian High School and went back to Zambia with the non-profit organization, Hands at Work in Africa. To support Devon's work, download a giving form. In October 2014, he came back to Smithville to speak at chapel, challenging students to "love sacrificially." Read more about what he had to say on the school blog . . . .
Ken Dam Class of 1998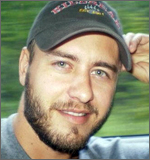 Ken Dam says his years at Smithville Christian High School prepared him for a career that successfully blends his faith with the gritty world of labour relations. The SDCH alumnus, who graduated in 1998, went on to study history and theology at Redeemer University College with "no idea" of what he wanted to do next. After four years at Redeemer, he spent a year teaching English in South Korea before returning to Canada to complete a two-year master's degree in philosophy at Toronto's Institute of Christian Studies, specializing in political theory.
Since 2007, he's been a union representative at the Christian Labour Association's office in Mississauga, representing the rights of about 600 workers at 10 different workplaces. He lives in Hamilton with his wife, Claire.
Dam says he didn't realize it at the time but "SDCH prepared me. It was the beginning of a life-long journey of learning how to integrate faith and life together. SDCH prepared me to think critically about how we live in the world and how we engage the world.
"It planted a seed in me."
Dam says relations between workers and management can often be difficult, and that's why it's important to "bring the truth of the gospel to the labour relations scene. Even in labour relations, the Biblical principles of justice, integrity and respect apply." Many of the bosses with whom he meets and the workers he represents are not Christians, but that is all the more reason for Dam to be Christ-like in his daily work. "The world of labour relations can be a very dirty world," he said. "As a Christian, you have to navigate and interact with this world, and have integrity, and be honest, and show respect to people with whom you may have many differences." Dam said the people he represents trust him. "They trust the professionalism of the CLAC and they trust we are doing the best for them."
Dam, who's still a newlywed, said if he and Claire have children, he intends to send them to a Christian school.
"Christian truths have meaning in every aspect of life."
Julie Kikkert Class of 2003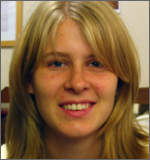 "The heavens declare the glory of God; the skies proclaim the work of his hands.  Day after day they pour forth speech; night after night they display knowledge. (Ps 19:1-2)"
Being involved in the sciences, I'm struck by the number of my colleagues who readily acknowledge the beauty, order, and intricacies observed within our discipline, yet choose not to see a Creator behind it all.  Having been trained in the sciences at both Smithville Christian High School and at Redeemer, I've always been encouraged to see the Creator amidst the scientific details and facts; to see the creation as one of the ways that God reveals his character to the world.  The Psalmist David declares that the heavens and earth constantly proclaim the attributes of Creator God, describing him as awesome, consistent, faithful, and wise. I suppose that's one of the reasons I love working in this field; every day offers a new opportunity to glimpse the character and majesty of God in the tiniest detail.
A graduate of Redeemer University College, Julie Kikkert ('03) is currently pursuing a master's degree at the University of Guelph, researching the movements of rare elements in plants and soils within the environment.  She has recently been awarded the Alexander Graham Bell Canada Graduate Scholarship by the Natural Sciences and Engineering Research Council of Canada.
Smithville Christian High School
6488 Townline Road, PO Box 40
Smithville, Ontario
L0R 2A0
Phone (905) 957-3255
Fax (905) 957-3431
All content property of Smithville Christian High School
Go Storm!